Hooride H1 scooter électrique
Les caractéristiques:
fourche avant rembourrée - procure au pilote un confort de conduite élevé
Éclairage LED - vous verrez même dans des conditions de faible luminosité
Affichage à DEL - indique la vitesse de conduite, la connexion Bluetooth, le mode d'alimentation et le niveau de charge de la batterie
pneus fixes sans air - ne vous inquiétez pas pour l'entretien des pneus
frein avant électrique avec ABS - avec système de freinage antiblocage ABS et récupération avancée de la batterie
frein arrière mécanique - conception ergonomique pour un freinage sûr et facile
régulateur de vitesse - pour des déplacements plus confortables sur de longues distances
obtenir un diagnostic de scooter
vérifiez vos statistiques et voyez comment vous allez
télécharger le dernier firmware
Le tutoriel vous guidera à travers le contrôle de la machine
trouver d'autres amis à proximité et mesurer votre force
Prix normal
415,00 €
Prix Spécial
349,00 €
Délai de livraison: 4 - 5 jours ouvrables - Livraison garantie avant Noël
Cliquez sur l'image pour agrandir

You can return the goods within 14 days
We return the money within 1 day
Hooride H1 scooter électrique

Le scooter électrique Hooride H1 est un équipement de transport rapide et léger. Pour le temps libre, les achats ou le transport rapide au travail ou à l'école. Avec un poids total de 13 kg, le scooter plié peut être transporté dans une main, faisant de Hooride H1 l'équipement de voyage idéal. Le silencieux avant et les pneus de grand diamètre garantissent un haut niveau de confort du conducteur. La combinaison d'un frein mécanique antiblocage et d'un frein électronique assure la sécurité et une courte distance de freinage. La H1 atteint une vitesse maximale de 25 km / h.
Grâce au système de pliage superbement conçu, tous les scooters électriques Hooride H1 peuvent être facilement pliés et rangés dans votre voiture ou transportés par les transports en commun. Pendant votre trajet, l'excès d'énergie lors de la descente ou du freinage est récupéré dans la batterie. En conséquence, le scooter est le système de gestion de batterie le plus efficace et le plus intelligent. Il surveille de près les performances de la batterie, étend la gamme et constitue en outre un produit respectueux de la nature.
Même les plus petits détails sont mis en valeur avec soin pour assurer le confort du voyage et la sécurité.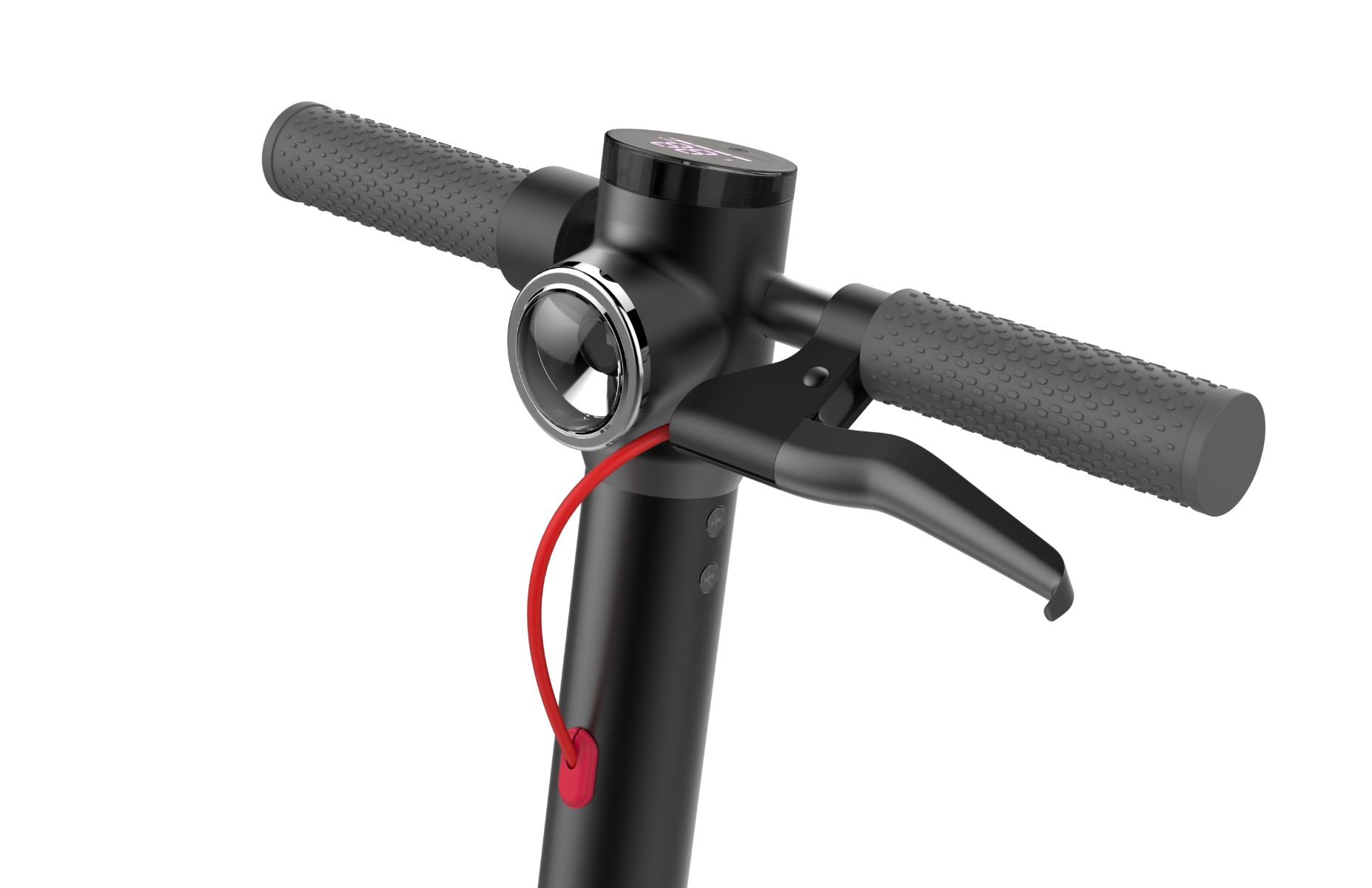 Description technique:
âge recommandé: 14 ans et plus
vitesse maximale de: 25 km / h
poids: 13 kg
dimensions du scooter déplié: 110 x 43 x 110 cm
dimensions du scooter plié: 110 x 43 x 42 cm
hauteur du guidon: 112 cm
capacité de la batterie: 270 Wh
montée maximale: 16%
capacité de charge maximale: 120 kg
lien vers l'application: oui
télécommande dans l'application: non
bluetooth: oui
degré de protection (résistance à l'eau): IP54
puissance maximale: 350W
portée maximale: 30 km
taille de la roue avant: 8 "
taille de la roue arrière: 7.8 "
temps de charge maximum de: 5 heures
contenu de l'emballage: guidon, cadre, documentation, vis M4x5, clé M4, chargeur externe
Plus d'information

| | |
| --- | --- |
| Poids | 13.0000 |
| Instruction manual | Yes |
| Dimensions - height (cm) | 113 |
| Dimensions - width (cm) | 43 |
| Dimensions - lenght (cm) | 102 |
| Box size - height (cm) | 113 |
| Box size - width (cm) | 43 |
| Box size - lenght (cm) | 40 |
Rédigez votre propre commentaire
Note: Les spécifications techniques peuvent être modifiées sans préavis. Les images ne sont données qu'à titre indicatif.