Voiture électrique Chevrolet Camaro, blanche, sous licence d'origine, alimenté par batterie 12 V, portes qui s'ouvrent, Siège en cuir artificiel, moteur 2x 35 W, lumières LED, télécommande 2,4 Ghz, roues EVA souples, démarrage en douceur
Chevrolet Camaro 
Siège en cuir artificiel
Télécommande 2,4 GHz avec appairage sur une voiture spécifique
Ouverture des portes
Lumières LED
Démarrage progressif
Dimensions : 117 x 70,5 x 47,5 cm
Roues souples en polymère EVA
Entrée AUX, USB et SD
Prix normal
363,00 €
Prix Spécial
279,00 €
SKU
CHEVROLET_CAMARO_WHITE
Délai de livraison: 4 - 5 jours ouvrables - Livraison garantie avant Noël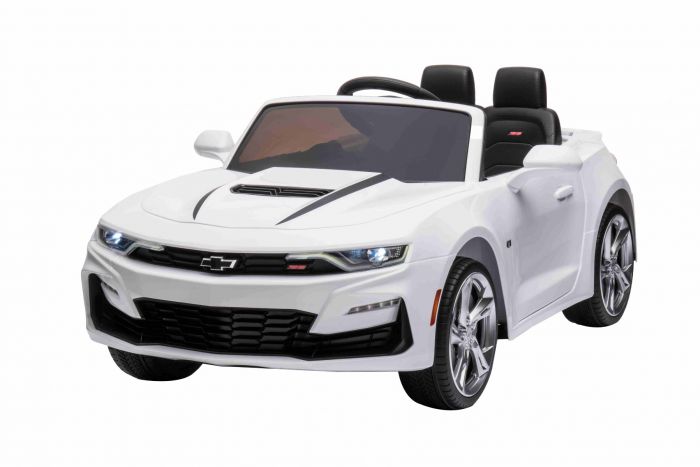 Cliquez sur l'image pour agrandir

You can return the goods within 14 days
We return the money within 1 day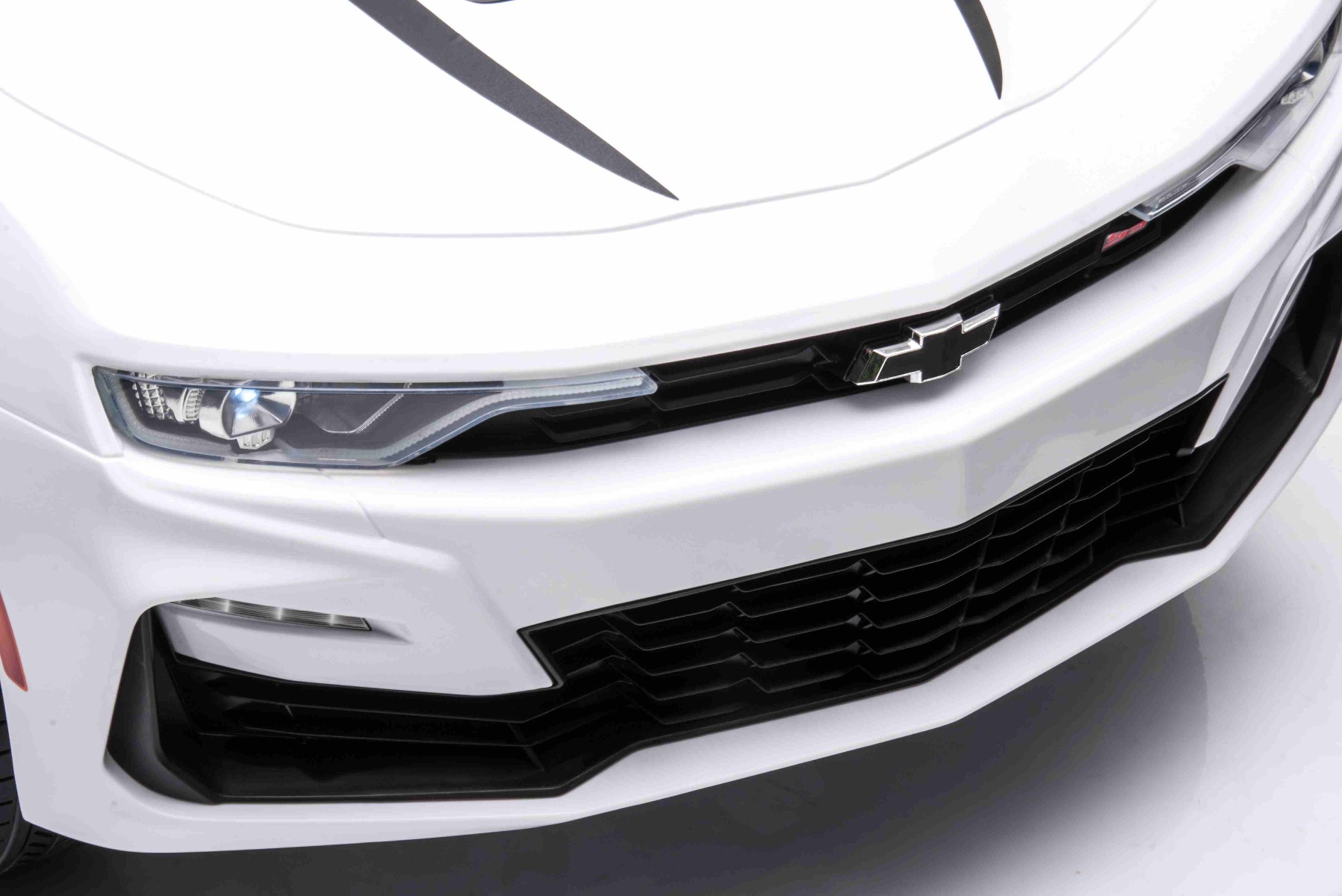 Voiture de sport électrique de luxe Chevrolet Camaro 12V

La Chevrolet Camaro représente une déclaration audacieuse sur l'avenir des voitures de sport - et de la mobilité de luxe. Ce modèle exclusif est maintenant disponible pour votre enfant !
Cette Chevrolet est une voiture électrique unique pour les enfants. C'est une version enfant sous licence d'une voiture fantastique appelée Camaro. Cette belle voiture à conducteur porté est également conçue pour les surfaces rugueuses et lisses. La voiture a des détails étonnants et des rétro-éclairages avant et arrière puissants et réalistes.
Parfait énorme voiture de sport électrique avec un look futuriste. Lorsque l'interrupteur est allumé, le modèle imite le son de démarrage, la LED avant s'allume, le rétroéclairage du tableau de bord également, des effets sonores tels que : klaxon, démarrage du moteur, son de conduite, chansons, mélodies, SD, entrée USB sont toujours disponibles pour s'amuser. Tous les effets sonores peuvent être contrôlés par un lecteur mp3.

Démarrage en douceur / accélération en douceur - Lorsque la pédale d'accélérateur est enfoncée, la voiture commence à accélérer électroniquement en douceur pour fournir une accélération en douceur grâce à l'accélérateur intégré.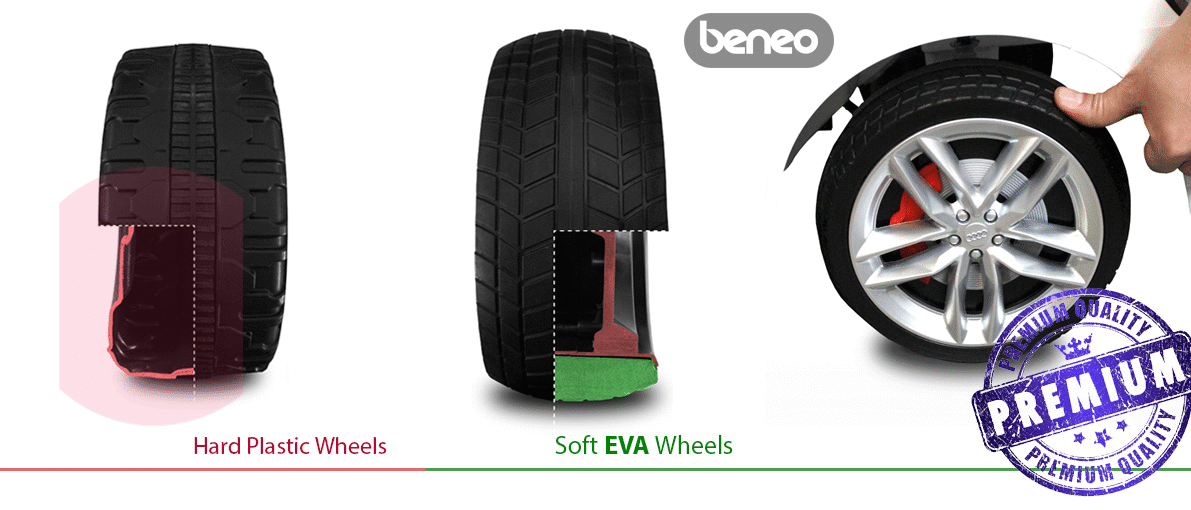 Les roues en EVA souple assurent une conduite confortable même sur des surfaces dures sans secouer la voiture.

La nouvelle télécommande 2,4 GHz assure un contrôle total sur la voiture pour le parent car elle peut annuler les actions des enfants. Il a une portée étendue. Cette télécommande a une clé d'appairage unique avec la voiture afin qu'aucune autre télécommande ne perturbe votre trajet. La télécommande a un réglage de vitesse intégré

La ceinture de sécurité est réglable sur le siège pour plus de sécurité, et la large ouverture de la porte facilite l'entrée et la sortie de la voiture.
Possibilité de basculer entre 2 vitesses de conduite en avant, 1 en arrière. Possibilité de contrôler le volume de la musique.
Le forfait comprend un adaptateur avec indicateur + batterie rechargeable et télécommande.
Caractéristiques
Roues Eva

Sièges en similicuir

Lumières LED

Lecteur mp3

Port USB
Carte SD
Capot ouvrant
Télécommande
Multifonction
Ouverture des portes
Ceinture de sécurité
Caractéristiques spéciales
Spécifications techniques/Produits Dimensions
Fonctionnalité intéressante : démarrage en douceur
Alimentation 12V - 2 moteurs 35W sur les roues arrière.
Plus de démarrage saccadé ; cette voiture démarre et accélère en douceur !
La fonction de démarrage en douceur - le moteur accélère progressivement au lieu d'un coup brusque
Max. vitesse - 6 km/h, Max. charge testée : 35 kg
Avant et rétro-éclairage
Port USB/SD/AUX pour la musique
Roues EVA souples pour une conduite silencieuse - Les roues en mousse EVA sont durables, résistantes aux UV et à l'eau
Télécommande 2,4 Ghz - fournit un contrôle parental complet
Siège en cuir
Ouverture des portes
Siège large pour 1 enfant
2 moteurs - 2 roues motrices arrière
Fonction de démarrage progressif
Pédale d'accélérateur - et freiner en même temps lorsqu'elle est relâchée
Batterie 12V /7AH
Poids de la voiture 21 kg
Dimensions de la voiture : 117 x 70,5 x 47,5 cm
Plus d'information

| | |
| --- | --- |
| Âge | 3+ |
| Poids | 21.0000 |
| Instruction manual | Yes |
| Dimensions - height (cm) | 47.5 |
| Dimensions - width (cm) | 70.5 |
| Dimensions - lenght (cm) | 117 |
| Box size - height (cm) | 36 |
| Box size - width (cm) | 60 |
| Box size - lenght (cm) | 123 |
| Seat type | cuir artificiel |
| Number of seats | 1 |
| Wheel type | EVA doux |
| Power (W) | 2 x 35W |
| Voltmeter | Yes |
| Sounds and audio | MP3 avec USB/SD/AUX |
| Battery type | 12V/7Ah |
| Max. load (kg) | 25 |
| Max. tested load (kg) | 30 |
| Remote control | 2.4 Ghz |
| Bodywork finish | Plastique |
| Ouverture des portes | Yes |
| Smooth start | Yes |
| Headlights | Yes |
| Dashlights | Yes |
| Backlights | Yes |
Rédigez votre propre commentaire
Note: Les spécifications techniques peuvent être modifiées sans préavis. Les images ne sont données qu'à titre indicatif.