Voiture électrique USA ARMY 4X4, Verte, Trois places, Lecteur MP3 avec entrée USB / SD, Suspension intégrale, Éclairage LED, Pare-brise rabattable, Batterie 12V14AH, Roues EVA, Sièges en similicuir, Télécommande 2,4 GHz, 4 x 4 lecteur
Voiture électrique USA ARMY 4X4
Nouveau: trois places!
Convient pour trois enfants
Capacité de charge SUPPLÉMENTAIRE: jusqu'à 60 kg
Entraînement: 4 x moteur 12V 45W
Batterie: 1 x 12V / 14Ah
Pare-brise pliable
Entrée USB / SD
Trois sièges en similicuir
Prix normal
569,00 €
Prix Spécial
449,00 €
Délai de livraison: 4 - 5 jours ouvrables - Livraison garantie avant Noël
Cliquez sur l'image pour agrandir

You can return the goods within 14 days
We return the money within 1 day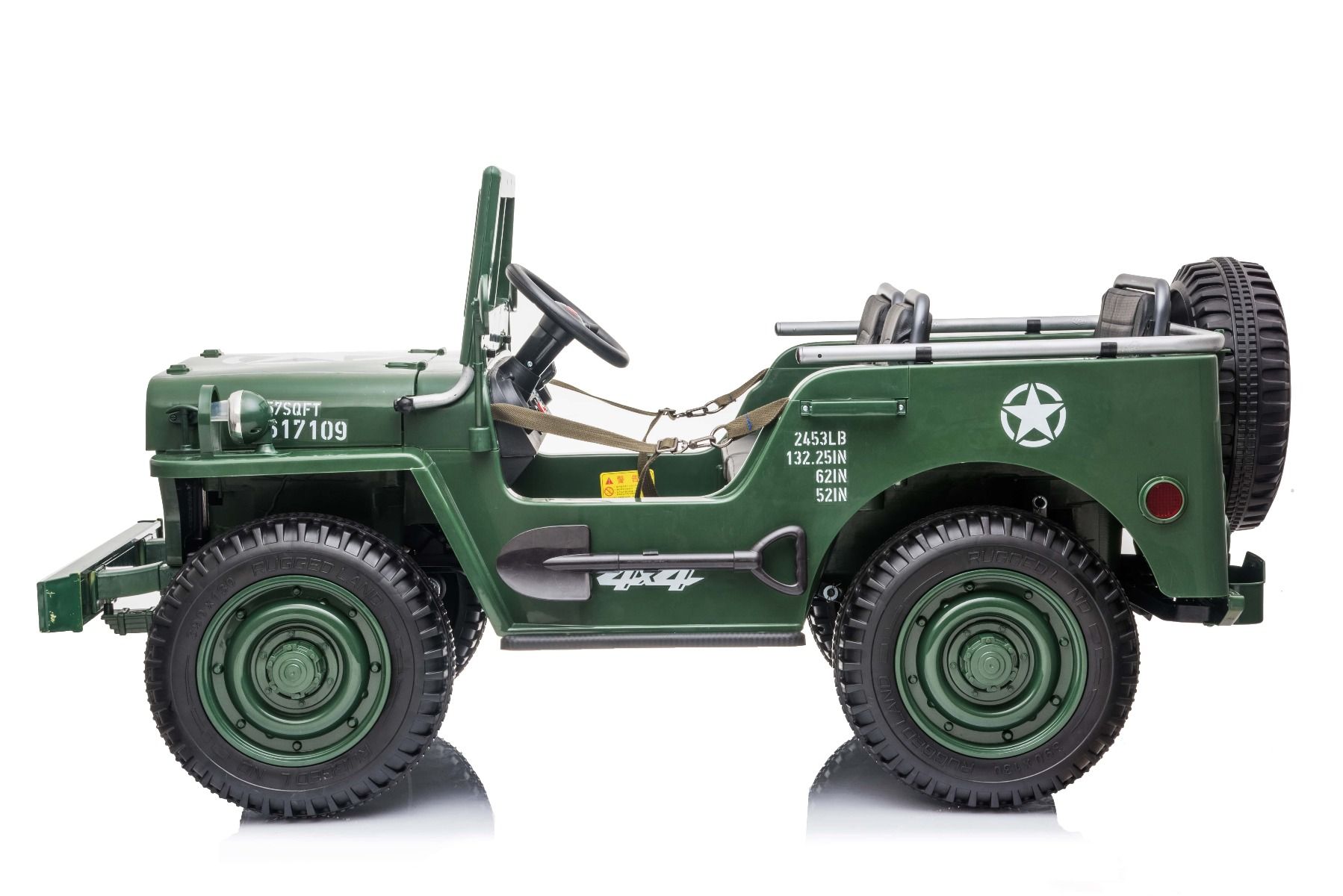 Voiture électrique USA ARMY
Modèle unique à trois places avec entraînement 4x4
Nouveau: Le modèle est équipé de trois sièges et d'un pare-brise rabattable!
La voiture jouet USA ARMY 4X4 est un modèle unique. Il est équipé d'un lecteur MP3 pour la lecture de musique avec une entrée USB / SD. Il dispose de 4 moteurs à traction intégrale, ce qui en fait une véritable voiture 4x4. Ce modèle est également équipé d'une batterie 12V / 14Ah, de lumières LED et est fabriqué avec précision et détail à partir de matériaux de qualité.
Le modèle USA ARMY dispose également d'un troisième siège, ce qui en fait le véritable et premier modèle trois places de notre assortiment où des outils lourds sont attachés au corps de la voiture!
Entraînement 4X4 - L'entraînement est assuré par quatre moteurs 45W sur chaque roue, grâce auxquels la voiture convient même aux terrains doux. La voiture est entièrement suspendue sur les essieux avant et arrière.
Possibilité même pour les petits enfants - grâce au réglage d'une vitesse inférieure et d'un démarrage en douceur !!!

Démarrage progressif / accélération en douceur - Lorsque la pédale d'accélérateur est enfoncée, la voiture commence à tourner et l'accélération est contrôlée électroniquement afin qu'elle soit douce grâce à l'accélération intégrée.
Après le démarrage, le modèle imite le son de démarrage, les phares et les feux arrière s'allument. Instruments à bord, effets sonores tels que klaxon, démarrage du moteur, son de conduite, chansons, mélodies, lecteur MP3 avec entrée USB et SD - tout le temps disponible pour le plaisir. - Le volume de tous les effets sonores peut être entièrement contrôlé par le lecteur MP3.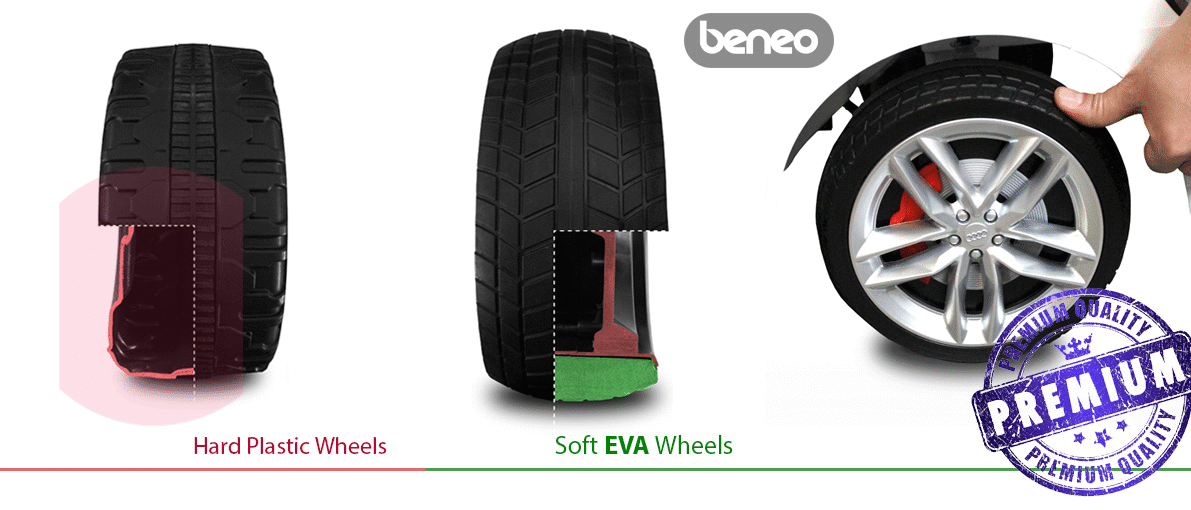 Roues en polymère EVA souple - vous procurent une conduite silencieuse et résistent aux fissures!
Télécommande - Télécommande Bluetooth 2,4 GHz associée à une voiture spécifique avec une commande de voiture supérieure et un frein réglable à basse, moyenne, haute vitesse et d'urgence.
La ceinture de sécurité est réglable sur le siège pour une plus grande sécurité, et la large ouverture de la porte permet d'entrer et de sortir facilement de la voiture.
Caractéristiques
4x4
Roues Eva

Lumières LED

Lecteur mp3

Port USB
Carte SD
Télécommande
Multifonction
Ceinture de sécurité
Caractéristiques spéciales
Ceinture de sécurité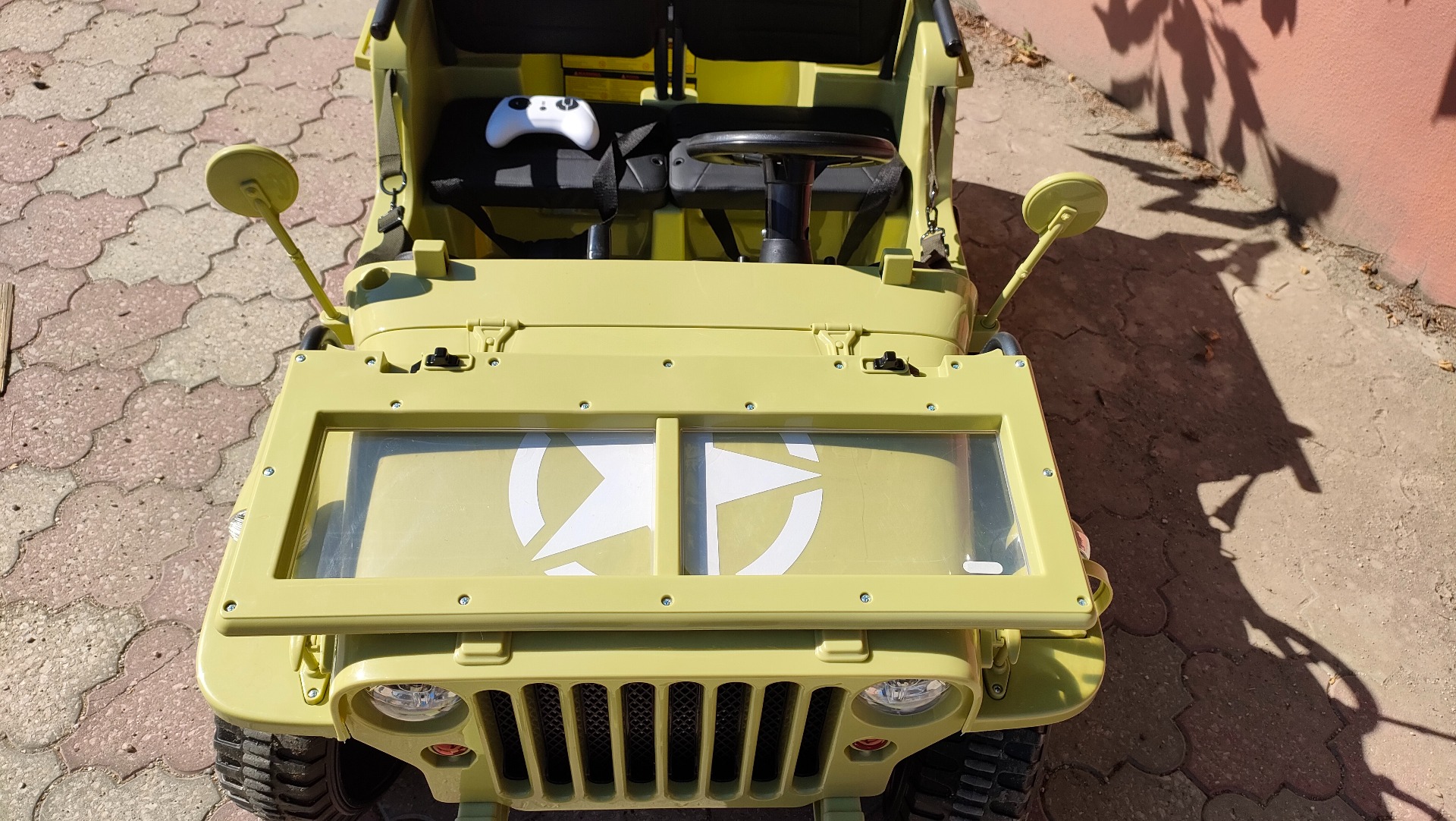 Pare-brise pliable
Suspension indépendante
Clips for hood opening
Removable battery box with charging port
Rear storage side spaces
Spécifications techniques/Produits Dimensions
Dimensions: 140 x 78 x 52 cm
Trois sièges en similicuir
Promenade en 4x4
Convient pour trois enfants
Élaboration détaillée
Démarrage en douceur - pas de déchirure lors de l'ajout de l'accélérateur
Roues souples en EVA
Télécommande 2,4 GHz avec couplage à une voiture spécifique - plus d'interférences de signal provenant d'autres voitures
FREIN D'URGENCE DE LA TÉLÉCOMMANDE - désactive toutes les fonctions de conduite de la voiture. Une nouvelle pression sur le frein d'urgence active les fonctions de conduite. Cette innovation offre un contrôle parental maximal sur le véhicule et une utilisation sûre.
Possibilité de régler la vitesse de conduite sur la télécommande - la télécommande innovante permet aux parents de régler la vitesse de conduite même en conduisant.
Régler l'indicateur de vitesse sur la télécommande
Lumières LED
Essieux à suspension
Pare-brise pliable
Ceintures de sécurité et ceintures de portières
Poids: 33 kg
EXTRA Capacité de charge: jusqu'à 60 kg, capacité de charge testée: 70 kg
Vitesse: 3 à 6 km / h.
Entraînement: 4 x moteur 12V 45W
Batterie: 1 x 12V / 14Ah
Adaptateur: de 220V à 12V / 1000mA.
Chargement: 8 à 12 heures
Temps de conduite: jusqu'à 2 heures, selon le poids et le terrain
Catégorie d'âge: 3 à 8 ans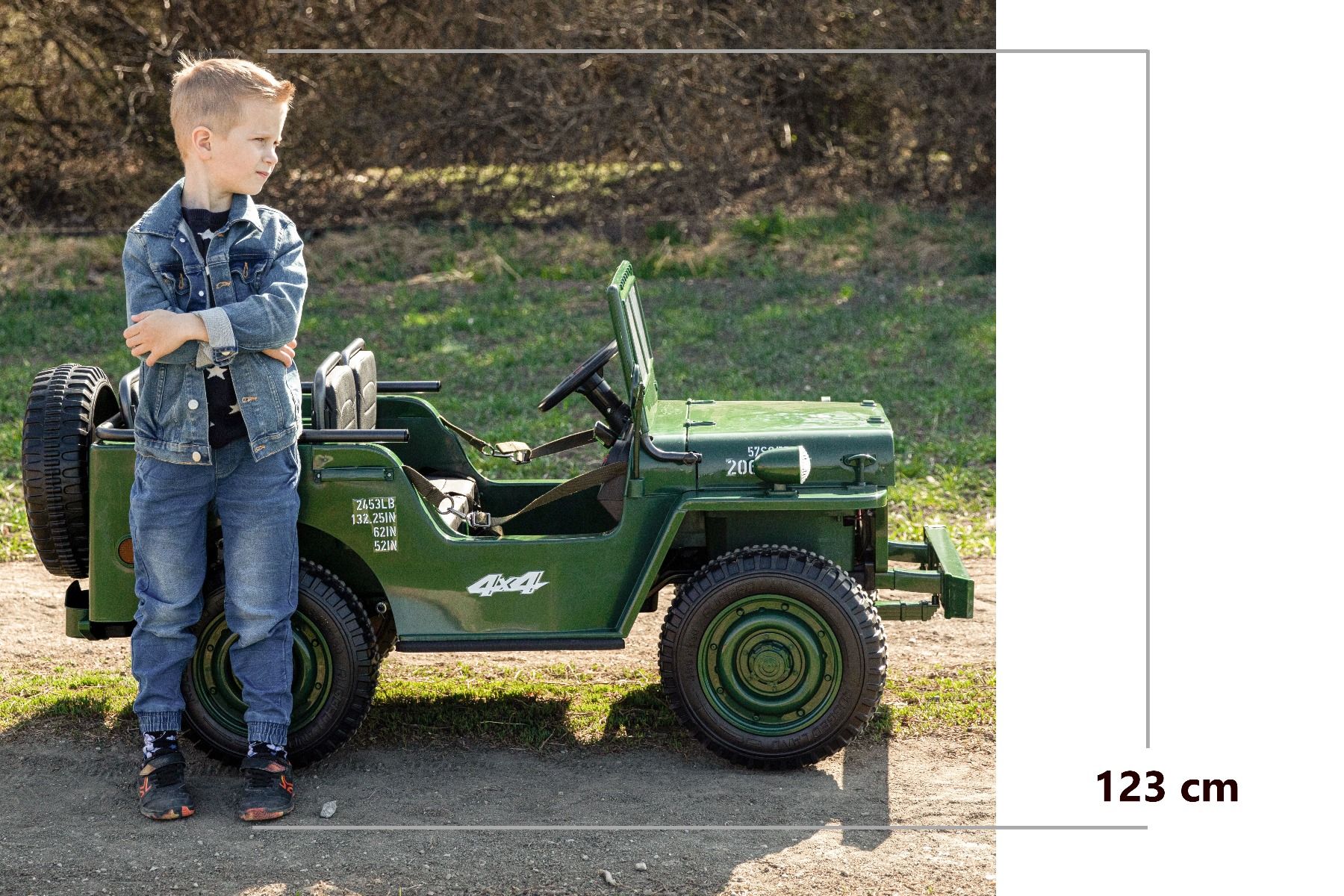 Plus d'information

| | |
| --- | --- |
| Âge | 3+ |
| Poids | 33.0000 |
| Instruction manual | Yes |
| Dimensions - height (cm) | 52 |
| Dimensions - width (cm) | 78 |
| Dimensions - lenght (cm) | 140 |
| Box size - height (cm) | 49 |
| Box size - width (cm) | 82 |
| Box size - lenght (cm) | 144 |
| Seat type | Similicuir |
| Number of seats | 3 |
| Wheel type | Douce EVA |
| Power (W) | 4 X 45W |
| Voltmeter | Yes |
| Sounds and audio | Lecteur MP3 avec USB / SD |
| Battery type | 12V/14AH |
| Max. load (kg) | 60 |
| Max. tested load (kg) | 70 |
| Remote control | 2,4 Ghz Bluetooth |
| Bodywork finish | Plastique |
| Usable trunk | Yes |
| Suspensions | Yes |
| Ouverture des portes | Yes |
| Smooth start | Yes |
| Headlights | Yes |
| Dashlights | Yes |
| Backlights | Yes |
Rédigez votre propre commentaire
Note: Les spécifications techniques peuvent être modifiées sans préavis. Les images ne sont données qu'à titre indicatif.